Yoko Onos performances and actions of the 1960s and 1970s have achieved cult status. Some of them will be performed and exhibited at the Kunsthaus Zürich. The artist is personally involved in the exhibition's conception.
Performances
SKY PIECE TO JESUS CHRIST, 1965/2022
Thursday, 3 March, 6 pm
To mark the opening of the exhibition we present the celebrated performance from 1965. In SKY PIECE TO JESUS CHRIST (1965), the members of a chamber orchestra and their instruments are wrapped in gauze bandages as they play, until they are unable to continue. In cooperation with the Collegium Novum Zürich
VOICE PIECE FOR SOPRANO, 1961 /2022
Friday, 4 March to Sunday, 29 May
Visitors activate the performance with the instructions provided and the microphone. Those who want to may shout.
13 DAYS DO-IT-YOURSELF DANCE FESTIVAL, 1967 /2022
Tuesday 8 to Sunday 20 March
Yoko Ono's short instructions transform the audience into performers outside the museum. For the re-staging at the Kunsthaus, visitors will receive a card with instructions each day when they buy a ticket. These can also be downloaded daily here.
TOILET THOUGHTS FILM NO. 3, 1968 /2022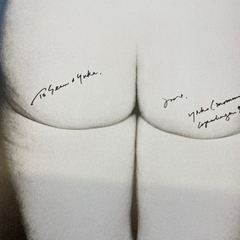 Mid-March to end of April
With this work, Yoko Ono wants to encourage toilet-goers in the city to write down their thoughts on the 365 posters distributed throughout the city and thus leave a message. Freedom and liberation play a central role. What many see as vandalism becomes an invitation in Yoko Ono's work.
CUT PIECE, 1961 /2022
Friday 8 April 2022, 6 p.m.
One of Yoko Ono's most famous performances is restaged. CUT PIECE has come to be seen as an important precursor of later feminist performance art, since it deals with voyeurism and violence against the female body. Rong Xie restages this iconic work for the Kunsthaus Zürich. One time only!
Cost: CHF 15 / CHF 10 (concessions)
BAG PIECE, 1966 / 2022
Sunday 27 March 2022, 2 p.m. and 3 p.m. Thursday 28 April 2022, 6 p.m. and 7 p.m. Thursday 19 May 2022, 6 p.m. and 7 p.m.
The early performance from 1966 is reactivated at the Kunsthaus. In BAG PIECE, the performers climb inside a black cloth bag and transform it into a living sculpture. With Neil Höhener.
Cost: included in the exhibition ticket.
9 CONCERT PIECES FOR JOHN CASE, 1966 /2022
Sunday, 15 May, 2 pm
Sylwia Zytynska invites you to become part of this performance and follow Yoko Ono's instructions in your own way. Also suitable for children.
Yoko Ono in Zürich
ACCOMPANYING PROGRAMME
From idea to exhibition
Thursday 17 March 2022, 6 p.m.
A discussion on the background and genesis of the exhibition with Yoko Ono. Learn more about the concept development, background and realization of 'YOKO ONO. THIS ROOM MOVES AT THE SAME SPEED AS THE CLOUDS'. With Kunsthaus curator Mirjam Varadinis and Christoph Stuehn.
Cost: CHF 10 / CHF 8 (concessions). Free with a valid exhibition ticket and for members.
Yoko Ono: Ideas for Peace
Sunday 27 March 2022, 10.30 a.m.–12.30 p.m.
A workshop for families with children aged 5 and over
The Kappel Milk Soup and Yoko Ono's actions for global peace are not just worlds apart, but centuries apart. Art inspires us to think about issues of peace. In the workshop, we'll design posters: War is over – if you want it!
Cost: adults CHF 10 / CHF 5 children and young people
'nachtaktiv' – a 'nocturnal' museum evening for young people aged 16 to 25
Thursday 31 March
Kunsthaus curator Mirjam Varadinis and Christoph Stuehn provide an introduction to the exhibition. With DJ and bar. An initiative of the universities of Zurich and Basel and the ETH Zurich.
Costs: Admission free.
People & bodies
Sunday 3 April and Sunday 1 May 2022, 11 a.m.–5 p.m.
In art, the body is at once object, tool and medium: figures use gestures to tell stories, artists leave traces and use performances to express their ideas and thoughts. In the workshop, you'll have a go at staging yourself, using paints, clay, photos and more.
Art laboratory for all – before or after visiting the exhibition.
Cost: included in admission price, booking not required
Reading and talk
Sunday 22 May, 2 p.m.
The author Nicola Bardola reads from his biography of Yoko Ono (in German).
Costs: Free with a valid exhibition ticket and for members, otherwise CHF 10 / CHF 8 (concessions).
FURTHER INFORMATION WILL FOLLOW
Want to learn more about the artist and her works? Our art educators will explain in detail the background to some selected works and explore with you their various layers of meaning.
Public guided tour
German: 5./19. March, 2./6./30. April, 14./28. May 2022 on Saturdays at 11 a.m.
Costs: Exhibition Ticket + CHF 6.– / CHF 4.– (concessions and members)
Registration via Agenda!
Private guided tour
We will be happy to organize a tour tailored to the needs of your group.
Max. 20 people
German, English, French, Italian
CHF 190.– (German) / CHF 220.– (other languages) + Admission Ticket (group tarif)
Duration: 1 hour
Related items from the shop
Supported by: